We have a hot spring sources of our own, which make our spa resort 100% natural with hot spring water running through all the rooms without any artificial regulation of humidity or water volume.
The hot spring water called "Bihada no yu" (Bihada means a beautiful skin) features muddy yellowish brown water which is very unique quality of spring among Beppu. Soaking in the hot spring bath while watching the panoramic view of Beppu bay which is changing every moment, it offer you a luxurious moment.
Open-Air Bath with Bappu Bay View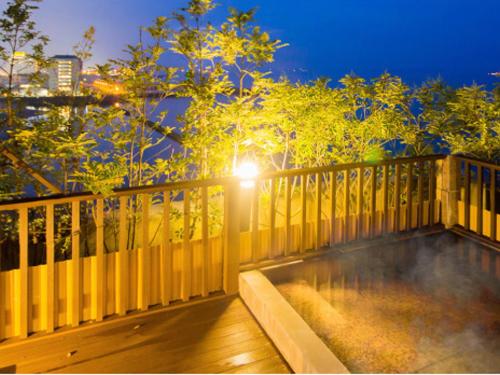 We offer you an open-air bath featuring the splendid view of Beppu bay and the city of Beppu on the top floor. While feeling the sea breeze, please enjoy the high quality hot spring water like facial lotion which make your skin smooth.
(*We prepared hot spring bathes for both men and women)
 
Hours |  15:00 ~ 23:00 / 6:00 ~ 9:30

Quality of hot spring water  |  Carbonate hydrogen sodium spring

Good for  |  atopic, skin disease, eczem, beauty for skin

Bath type  |  Open-air bath with 100 % natural hot spring water

Views from bath  |  Beppu bay, City of Beppu

Amenities for the changing room  |  Dryer, Comb, Bath Towel, Facial towel, Scale

Amenities for the bath room  |  Shampoo, Body soap, Conditioner
*You might not be able to use the open-air bath due to weather
All Guest Rooms are Equipped with a Hot Spring Bath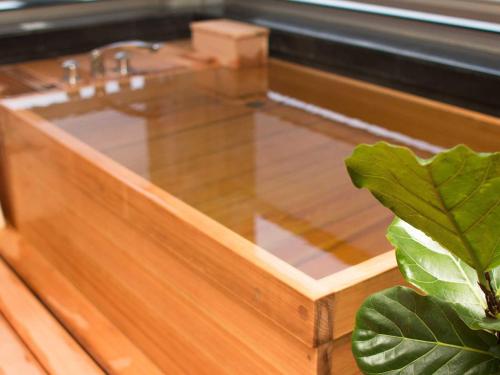 Each guest room features a half open-air bath with 100 % natural hot spring water. Please relieve the fatigue from the travel by soaking in nice hot bath at the terrace.