= SPA Sualaut =
Location | Top Floor



Hours | 13:00 ~ 22:00
Escaping from your Daily Life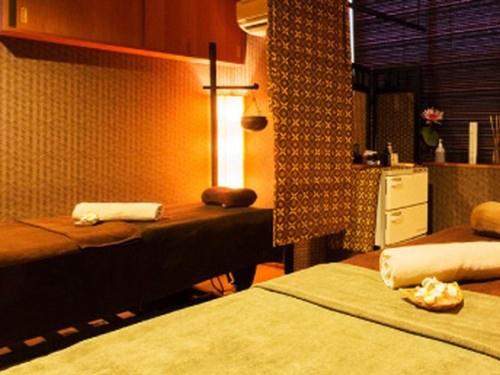 At SPA Sualaut, we are offering a relaxation service for guests that they can have the time of bliss. That help you forget about time and be released from your daily life. 

? Please note that some may be different from the picture due to the refurbishment. 
India and Sri Lanka's Traditional Healing System "Ayurveda"
Ayurveda is one of the world's three major traditional medicine along with Chinese medicine and Yunani medicine, and it has a history of 5 thousand years. It is said that it was the root of medical care of the world, it strongly influenced not only western medicine but also oriental medicine and other alternative medicine. It is not an exaggeration to say that it is the root of massage. At Umine, we offer a therapy (treatment method suits for Japanese) based on that traditional Ayurveda treatment method. Please experience the total treatment service which is for detox effect (detoxification) and anti-aging (rejuvenation).
Please come to the spa room 10 minutes before the appointment time.
If you are late for the reservation time, you may not be able to take the course you booked.
Also please note that the treatment time might be shortened.
SPA Sualaut | Price List [Reservations Needed]
= Body =
It offers you original treatments that improve blood circulation
and removes swelling and stiffness.
[90 mins] 14000 JPY
[60 mins] 10000 JPY
[30 mins] 8000 JPY

= Facial = 
It is a treatment aiming for purification. 
It can help taking the swelling for face line and making it sharpen.
[60 mins] 10000 JPY
[45 mins] 8000 JPY

= Foot =
The original treatment can help remove the fatigue and the swelling for your foot.
[60 mins] 10000 JPY
[30 mins] 5000 JPY

= Shirodhara & Head Massage =
Traditional Ayurveda method in India and Sri Lanka
Drip oil to chakra (center of forehead) and take the fatigue of the brain and nerves.
[40 mins] 9000 JPY
Price List for Set Course [Reservations needed]
= Suara Course =
[120 mins] 18000 JPY
Body (60 mins) + Facial (60 mins)

= Laut Course =
[90 mins] 15000 JPY
Body (45 mins) + Facial (45 mins)

= Shirodhara Course =
[160 mins] 26000 JPY
Shirodhara (40 mins) + Body (60 mins) + Facial (60 mins)
[130 mins] 23000 JPY
Shirodhara (40 mins) + Body (45 mins) + Facial (45 mins)

= Customized Course = 
Based on counseling, we will combine some courses.
[120 mins] 21000 JPY
[90 mins] 15000 JPY